The Southwest Traditional model is designed and constructed in the traditional Spanish manner.  These generally follow the evolution of guitars from Torres through Hauser and the renowned Spanish luthiers of the early 20th century. These models express the feel and tone of the traditional classical guitars developed over a century and a half.  Most of the classical instruments constructed during this long period, handmade or factory made, generally follow this established design.
The full size concert body is made with either an Engelmann spruce top or a Western Red cedar top.  The spruce top lends a bit more focus or brightness to the tone while a cedar top may provide a more open, full tone reminiscent of the cedar Spanish guitars of the last few decades.  The range of tone colors available may be broader with a spruce top while most players agree that it may be easier to produce a good clear tone with each stroke on a cedar instrument.  This is especially important to developing players. With either top wood, though, the tone will be balanced and strong, and suitable for concert performance.
The sides and backs of these models are made of very high quality, straight grain, aged Honduras Rosewood (Dalbergia Stevensonii).  Traditional Spanish guitars have been made in a variety of rosewoods and maple for almost 200 years.  The density and reflective potential of this Honduras rosewood is the wood that most resembles fine, old growth Brazilian rosewood. This wood has even been preferred over Brazilian rosewood by a few well respected Spanish makers.  Our shop selected and cut this superior lumber into guitar sets many years ago to fit this current need. We have found this rosewood to be the very best tone wood value - tone as good as the best Brazilian Rosewood at ⅓ the cost.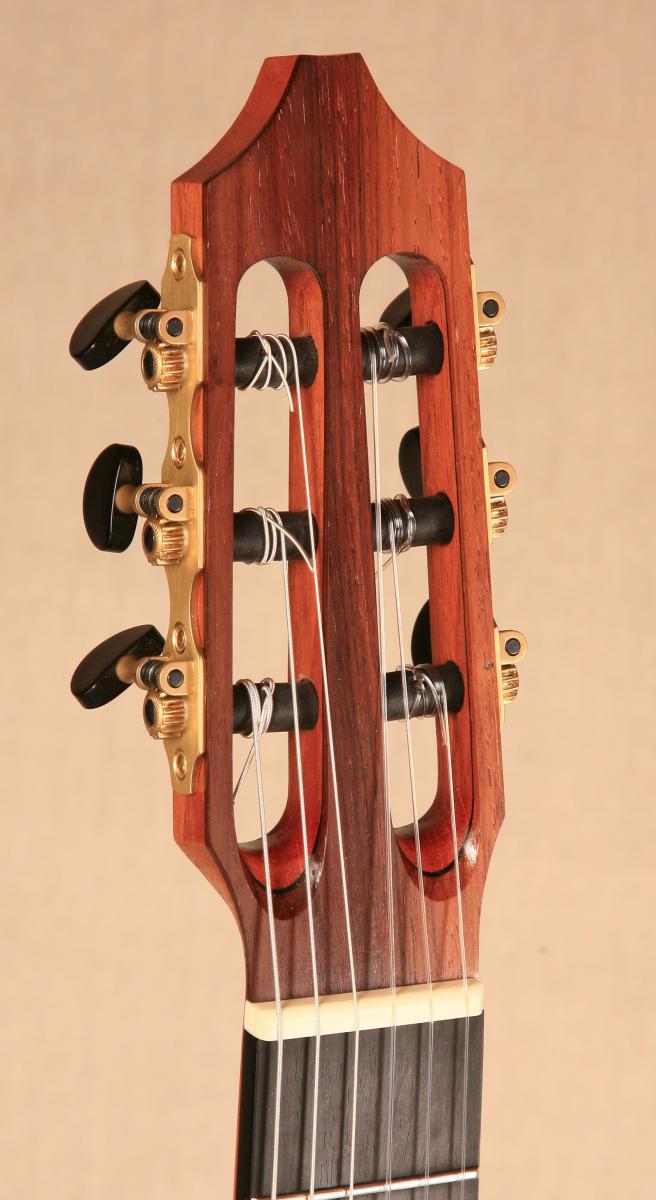 The guitar necks are either Spanish cedar or Honduras mahogany - aged/cured for 30+ years,  with well cured ebony fingerboards.  These models are made in either 650mm or 640mm scale length with a 52mm nut width.  Nut and saddle are made from bleached bone. High quality German made Rubner tuning machines are used on all Sonora Guitars models.
The top is finished in a thin, satin lacquer or French polished shellac - with the sides, back and neck protected with several coats of hard oil that provide a very natural look and feel.
Traditional Design - These models are made with the more traditional, and well established, 7 fan Torres/Hauser design for the spruce models, and for the cedar topped instruments we use a variation on the 5 fan, treble bar style top bracing systems - following Miguel Rodriguez and Jose Ramirez construction that became the standard for most Spanish cedar guitars.  The sides and the very resonant back are machined thin - approximately 2.0 mm to 2.2 mm - and then lightly braced. Every effort is made to produce the strongest, clearest - and most musical - voice in these instruments even though they are the most affordable models available from this shop.
---
Each guitar is delivered with a lifetime warranty to the original owner and a new hardshell case.
Choose:  650mm scale length, or 640mm scale length
Choose:  Engelmann Spruce top, or Western Red Cedar top
SONORA GUITARS SOUTHWEST TRADITIONAL TOTAL COST IS $3500, INCLUDES SHIPPING.