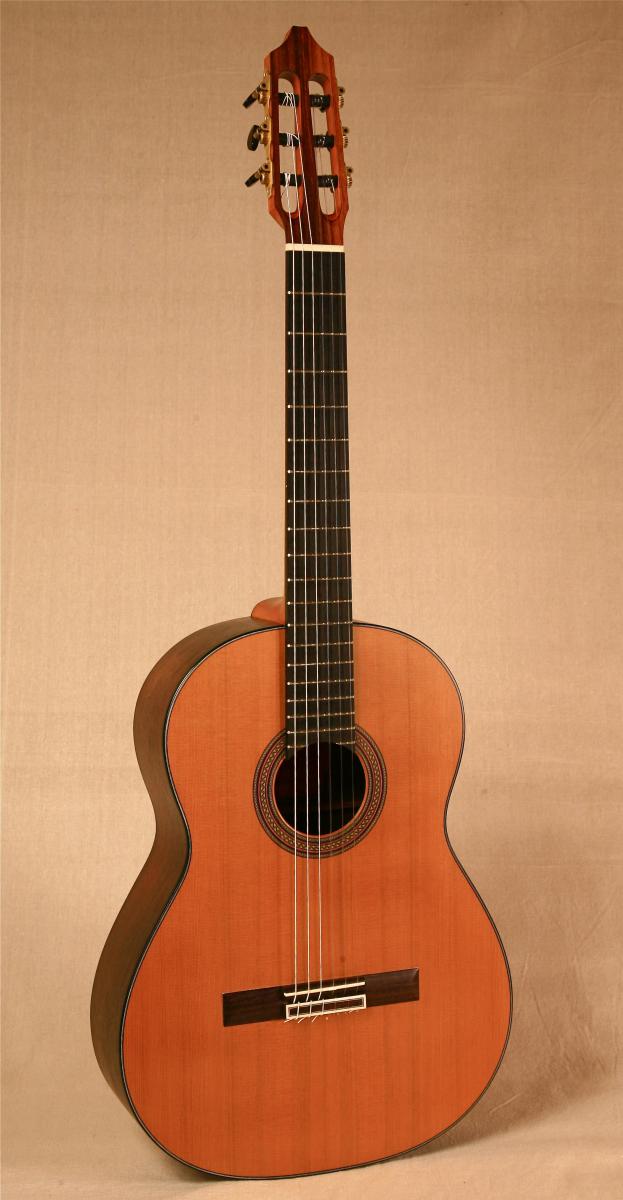 Sonora Guitars is as much an idea, or concept, as it is a name for a series of handmade guitars produced in my shop.  For over forty years I have designed and hand made many very fine concert guitars and professional level steel string guitars - including some very custom instruments fitted to player's special needs.  I continue to make these very special, exclusive instruments under the Duane Waterman Fine Guitars banner and they are highlighted in another area of this site.
In 1999 I moved my home and shop to Tucson, Arizona and became involved with the terrific guitar program here at the University of Arizona.  Both the undergraduate and graduate programs for guitar majors are well developed here with many fine young players from around this country, Europe, Latin America and Asia.  I noticed the same thing here that I experienced in the other guitar programs that I had previously been involved with - that for these aspiring guitarists there was little choice for instruments appropriate for their use except true professional concert instruments (national/international level, in the $6,000 - 10,000 range) or well-made high student, factory instruments (mainly Spanish, or Chinese in the $1,000 - 1,800 range).  Without exaggerating, I can state that these developing guitarists will learn more effectively, will enjoy their many hours of practice more, and will perform much better, and more confidently, on the more refined, handmade professional guitars than with even the best of the high student level factory guitars.
For the students that can afford a true national/international level handmade concert guitar this is no issue, there are many available from any number of dealers and guitar makers around the country, including from my own shop.  But for those students, or serious amateur players, on a tighter budget it is difficult to get a true professional level guitar in their hands and, unfortunately, most settle for the better factory guitars. I have developed the Sonora Guitars line to fill this need and provide a professional level guitar at a price between the best factory guitars and the established concert instruments.
Since I already make concert guitars at a professional, or recital, level (in the $5500-8500 range) achieving this goal is a matter of making quality concert guitars at a lower cost.  Usually, builders are trying to raise their selling price over time, not lower it, so trying to lower it and still keep the quality high is a bit more difficult - but not impossible.  This challenge was approached from several angles.
When I analyzed the time, process and material costs to produce my fine concert guitars I realized that a good portion of this time and cost could be saved with some changes to my process and still produce an excellent concert instrument.  Most of the instruments that I have made required a good deal of back and forth communication and comparison to determine many details with the prospective client before and after the point of the order. This is to be expected when making a "custom" instrument but this extra time and attention adds more time (and cost) to the actual process.
With the Sonora Guitars instruments this extra communication/individual design time is eliminated by standardizing the specs and limiting the number of models offered.  The Sonora Guitars concert guitars are offered in two models - the Southwest Traditional and the Professional.   These models fill the preferences or needs of most players.  The body size is the same for both with both offered in 650 mm or 640 mm scale lengths (with internal bracing and neck adjustments for the two scale lengths scales), both are offered with either a cedar or spruce top.  The differences in these two models being that additional features - Brazilian rosewood back and sides, elevated fingerboards and sound ports - are designed into the Professional model.
The material costs for the Sonora Guitars concert guitars have also been reduced compared to the costs for an individually or custom made instrument.  I have acquired spruce and cedar tops in large quantities over the years at reduced costs.  I also cut most hardwood back, side and neck material from lumber.  This makes the costs of these primary materials much lower. Our hardshell cases and tuning machines are also special purchases at high value (quality vs. cost).
Additionally, savings have been gained by employing more efficient factory processes where it is appropriate and still maintains, or enhances, the desired high quality: such as, the use of a very precision, cast aluminum side bending machine, the top and back plates and fingerboards are machine sanded, fixed routers are used for binding slots, necks are rough carved on a duplicating router, and the use of pre-made bridges and rosettes.  Each of these processes or choices save the cost of much detailed hand work and actually increase the quality and consistency of the finished guitar.  Savings are also made by using a hand applied hard oil to the sides and back rather than the more time and labor cost of applying a lacquer finish.  The resulting thin hard, protective surface brings out the luster and beauty of the wood in some ways more appealing than the lacquer finish.
All of the internal structure, bracing, assembly, finishing, and final set-up are accomplished by hand with the same high attention as with my finest custom models.  Where I can reduce the costly handwork and maintain or increase the desired high quality I will do so, and pass the time savings on in a lower price.
These Sonora Guitars models are produced here in the shop right along side of my highest custom models.  The same intense attention and highly skilled handwork goes into each process with each guitar, but the Sonora Guitars models have the cost savings listed above.  So, even with some standardization and limiting of the models offered, each one of these more affordable guitars is still unique and individually handmade to the highest standards.
Like the finest concert guitars, these beautiful instruments have a very responsive, strong and clear voice.  The velvet feel of the well-shaped neck, the medium to low string action and accurate intonation makes playing these guitars a joy.  These models have everything in sound, look, and feel that would be expected of the more costly professional, concert level instruments.  In fact, they are fine concert instruments.  Check the pages here that describe these two models with photos, videos and more details.  Please contact by email or phone with any questions that are not addressed here.
Models